Official Licensed Full Size Asuna's Lambent Light Foam Sword - Sword Art Online
Official Licensed Full Size Asuna's Lambent Light Foam Sword - Sword Art Online
Availability:
Usually Ships in 24 Hours.
Shipping Cost:
Calculated at checkout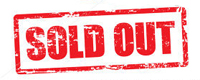 ---
Product Description
Officially Licensed "Sword Art Online" Foam Swords

Limited Edition and Collectible Asuna Yuuki's "Lambent Light" rapier sword from the light novel, manga, and anime series!

Overall Length: 37.5 inches (Blade: 30.5" , Handle: 5.5")

Made from high quality foam

Perfect for collectors and fans of the series. Even better for Cosplay!
---
Find Similar Products by Tag
---
Find Similar Products by Category
---
Customers Who Viewed This Product Also Viewed