1760 Naval Pirate Gun FlintLock Blunderbuss Replica Pistol
1760 Naval Pirate Gun FlintLock Blunderbuss Replica Pistol
Availability:
Usually Ships in 24 Hours.
Shipping Cost:
Calculated at checkout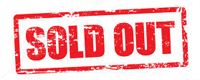 ---
Product Description
This full size, Beautifully crafted, flintlock replica is not a gun and will not fire. The hammer,trigger and pan are working mechanisms. It is about 15" long. It's made with real wood, and metal. Top is marked "Hadley 1760" on one side and "London" on the other. The only mark is a Royal style capital N.

Comes with a FREE display stand

Please Note: This Pistol DOES NOT FIRE ANY TYPE OF PROJECTILE, NOR CAN IT BE EQUIPED TO FIRE ANY TYPE OF PROJECTILE.

This item is in 100% compliance with Federal Laws. This is a replica of a fire arm produced and therefore is not required to have an orange marking.
---
Find Similar Products by Tag
---
Find Similar Products by Category
---
Customers Who Viewed This Product Also Viewed